WELCOME!   
We would like to welcome you and thank you for visiting our website.  We have been in business for over 20 and have build an outstanding reputation.  We have an A+ Better Business Bureau rating and have many repeat and referral customers each month.  Please read the testimonials on the website.      We hand pick ALL our cars and have a first class inventory.  Our low overhead makes it possible for you the customer to get the best deal possible and always dealing with the owners makes it a quick and pleasant transaction without any headaches or surprises.  We also often work with 'out of state' customers and can assist you in any way, like transportation, to make it a hassle free transaction.  Please view our hours of operation and directions to our showroom. 

MEET THE OWNERS

Claude de Fontaine is originally from Belgium and has been in the US since 1985.  Now a United States Citizen, his interest in cars, including Formula I Racing, has always kept him involved in the car business some how.  It started with importing German cars to the US in the late 1980's. Claude started AutoLink in 1995, specializing in the sales of Lexus.  Over the years he started selling other luxury brands as well, such as Audi, BMW, Land Rover, Mercedes, and Porsche.  When the internet became popular www.autolinkusa.com was born.  Today, the focus is on low mileage cars luxury cars, that are still under factory warranty and in pristine condition.  Claude is the only purchaser for AutoLinkUSA and has become an expert in buying only the 'cream of the crop' for his inventory.  He also locates cars for customers, that are currently not in inventory.  Buying a car from AutoLinkUSA ensures you to get a very high quality car, at a very good value and with the expertise and knowledge from Claude for as long as you own your vehicle.

Esther Veenstra is originally from the Netherlands and came to the US in 1990 after graduating from the Hotelschool The Hague in the Netherlands, where she studied hotel and restaurant management.  Her management training at the Plaza Athenee Hotel in New York City made her decide to stay in the USA and in 2002 she became a proud American Citizen.  In Atlanta she worked several years for the Buckhead Life Restaurant group where she put in practice and perfected her customer service- and management skills.  In 1998 she became a partner in AutoLINK.  Four years later, in 2002 they changed the name to AutoLinkUSA and took the business to a new level.  Esther's education and work experience in top hotels and restaurants has taught her that offering a top product and excellent customer service is the only way to go.  Also, her love for cars and her many years of experience working at AutoLinkUSA has made her very knowledgeable about the automobile industry.  She will always help you find the right car for you, at the very best value.  The cars they sell at AutoLinkUSA usually have low miles and are of the highest quality.  They are usually still under full factory warranty and qualify for an additional 5 years extended warranty honored by the franchise dealers.  The atmosphere at AutoLinkUSA is friendly and low pressure, and together with the selection of high quality cars it is what keeps people coming back to AutoLinkUSA every time they are in the market for a new vehicle.

INVENTORY
We only buy the HIGHEST QUALITY, LOW MILEAGE vehicles, the majority under FULL FACTORY WARRANTY.  Most of our cars are ONE OWNER cars that we buy directly from BMW Financial, Lexus Financial and Mercedes Benz Credit.  Our inventory changes all the time, new cars are coming in every week.  Cars that have just come in might not have any pictures displayed.  We keep all our cars indoors in a warehouse type setting showroom.  The cars can easily be taken out for test drives.  If you do not see the car you are looking for in our inventory, we also offer a service where we can locate a car for you.  We would only charge you a flat fee over the price we pay and you will get exactly what you want for an excellent price! 
TRADE-INS 
We take any car on trade and if you live in Georgia you will only pay the TAVT tax on the difference of the purchase price of the car you are buying minus the value of your trade-in.  This can be a great savings to you and you do not have to worry about selling your car and waiting for your money.  Please call us or click the 'contact us' button on the top, tell us about your car (year, make, model, mileage, options, colors, overall condition, etc.) and we can tell you what the trade-in value for your car is. 
WE BUY CARS
If you are currently not in the market to buy another car, but would like to sell your car we might be able to help you.  We can usually give you an accurate estimate right over the phone about the value of your car. 
VEHICLE FINDER 
If we currently do not have the car you are looking for in our inventory, please give us a call or click the 'contact us' button on the top, and let us know what you are searching for.  We are looking for cars every day and might just find exactly what you are looking for.      
EXTENDED WARRANTIES 
We sell EXTENDED WARRANTIES (even if you did not purchase your car from us).   We work with several top of the line companies, all honored by the franchise dealers and coverage similar to the factory warranty.  We can custom make a plan, as far as the number of additional years (up to an additional 6 years from the time you buy the contract) and the total mileage covered (up to an additional 125K miles), for the very best value to you. Please contact us for a quote!
FINANCING
Get a head start on financing by filling out our 100% secure online credit application.  We offer excellent rates and approval usually takes less then 30 minutes.  Once you have been approved you can drive off in your new car!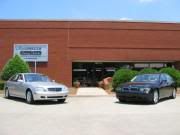 We specialize in late model, low mileage pre-owned BMW, Lexus and Mercedes that are in pristine condition.  In most cases our cars are under the full factory warranty and are one owner vehicles.  All our cars are Carfax certified.  We offer financing at excellent rates.  Please stop by or visit our 50-car INDOOR SHOWROOM or contact us for more information, phone (770) 988-8688, email info@autolinkusa.com, text 770-480-1385!

Welcome to Auto Link USA located at 1691-A Enterprise Way in Marietta,GA. Please call us at (770) 988-8688 to arrange a test drive or visit our website www.autolinkusa.com to view our complete inventory.